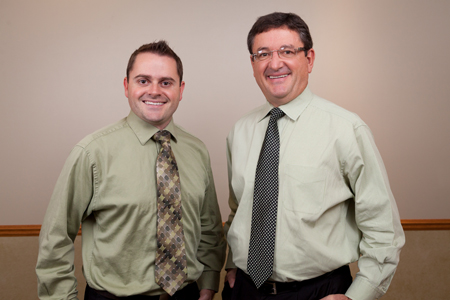 Dr. Evan Roundy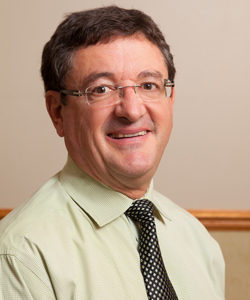 Growing up on the family orchard in Mapleton, Utah, Dr. Roundy learned early that schoolwork was easier than farm work.  Driven by this insight, Dr. Roundy graduated cum laude from BYU and first in his class from Emory Dental School in Atlanta, Georgia.
After completing a General Practice Residency at UCLA Hospital, Dr. Roundy began practicing dentistry in Utah in 1983. He is an active member of the Utah Dental Association and the American Dental Association.  He and his wife Melanie are the parents of six children, and have six grandchildren.  Dr. Roundy enjoys golfing, gardening, and spending time with his family.
Dr. Roundy's passion for his work is evident in everything he does.  "I love being a dentist.  I value and enjoy the relationships I have built with my patients over the years.  I treat them like family and find it very satisfying to help them enjoy a better life Dr. Roundy is very gentle and patient, and is particularly good with children and those who are apprehensive or nervous. After a thorough examination, he takes the time to explain and discuss treatment options clearly so that patients feel comfortable they are making the best decisions regarding their dental health.
Dr Roundy is committed to continuing education, such as studying current literature and attending seminars and conferences on research impacting dentistry. In addition to providing traditional dentistry such as excellent crowns and root canals, he has expertise in the latest techniques, such as implant and cosmetic dentistry.
"This is an exciting time to be a dentist.  Research into new materials and treatment options are constantly improving the quality of care I can provide my patients.   My 25 years of experience allow me to take this information, weigh a variety of factors to assess each case, and determine the best treatment for each individual patient.  I am confidant that I provide the best dentistry available so my patients can enjoy excellent dental health and a great smile that lasts a lifetime."
Dr. Aaron Roundy
Dr. Aaron grew up locally in the Cottonwood Heights area. He went to dental school at the University of Maryland, graduating in 2010. Prior to dental school, Aaron did his undergraduate studies at Brigham Young University majoring in Biology with a minor in Psychology. He was also able to serve an LDS mission to England from 2000 – 2002 which he loved. Although he enjoyed living back in Maryland, he is glad to be back in Utah practicing dentistry, especially since he can work with his father, Dr. Evan Roundy.
Dr. Aaron and his wife Camille welcomed their first baby to the world in September and are having fun being new parents. In his free time Dr. Aaron loves to stay active playing most any sport, but especially basketball. He also loves to go hiking and enjoy to mountains around Salt Lake.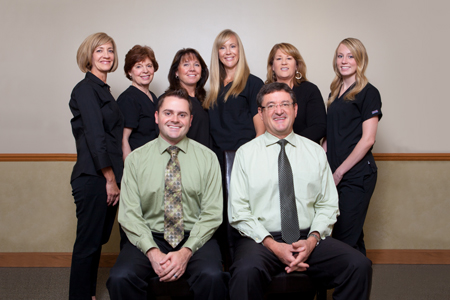 Staff



Gail Hanson

Gail has been working as a dental assistant for over 20 years. She has 5 children and 4 grandchildren and loves spending time with them. She also loves boating and camping, as well as going to the ballet or plays around town. She enjoys being Mrs. Claus with her "Santa Claus" husband during the Christmas season.




Torrie Gardner

Torrie is another of our dental assistants and is the newest member of our staff. Torrie recently moved to Salt Lake City from Hurricane Utah where she previously worked for an Oral Surgeon.
She loved being a cheerleader, and enjoys dancing, spending time in the mountains, snowmobiling and going to the family cabin in Midway. She also recently got engaged and is excited to get married in the coming year!




Susan Kormylo

Susan is another of our awesome Hygienists. Her favorite part of being a hygienist after all these many years is the great patients that she meets and grows to admire and love. She is a past president of the Utah Dental Hygienist Association and is presently writing questions for a dental hygiene national board online review course. When not at the Office Susan is an avid hiker and loves hiking one of the peaks along the Wasatch front. Life is good!




Lisa Christiansen

Lisa has worked in our Front Office for 9 years helping with insurances and scheduling. She has 5 children and 3 grandchildren. Lisa enjoys cooking and traveling and also loves designing and making costumes for her grandkids and the local high school.




Kristen Hall

Kristen is one of our amazing Hygienists. She has worked with Dr. Roundy for 11 years. Kristen loves going to Lake Powell and is happiest when biking. She also teaches Dental Hygiene classes at Salt Lake Community College.




Kris Robinson

Kris is our Office Manager and has worked with Dr. Roundy for 21 years. She has 4 children and 7 grandchildren. Kris loves cooking, traveling, watching football, and motorcycle rides with her husband, especially Saturday morning breakfast rides.